News about Spill Containment.  by Ready Containment, LLC. Bringing you the latest in spill containment and secondary containment product updates. Such as the news from Ready Containment, LLC. Spill Berms include the New Ready Spill Berms and Rapid Entry Spill Berms.
We are looking for spill news that affects our environment. If you would like to submit any news article, please contact our webmaster.
For the best Spill Containment Berms, contact us 24/7.
News can't wait! Neither should you!
For Fuel Storage, check out https://readycontainment.com/fuel-bladders/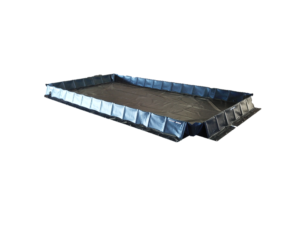 Ready Containment, LLC. is a premier manufacturer of spill containment berms and flexible bladder tanks. Such as our Ready Berm, Ready Drive Through Spill Berms, "L" Bracket Spill Berms, Fuel Bladders, and Water Bladders.
Please email us with any oil spill or chemical spill pictures, as we would love to post them. Ready Containment, LLC. is also looking for pictures of how your Ready Spill Berm contained your spill.
Spill containment products like spill berms help prevent pollution.
Don't take chances! Did you know? A spill of only one gallon of oil can contaminate a million gallons of water. So, if you think about a single 55-gallon drum of oil has the potential to contaminate 55 million gallons of water.
A single pint of oil released into a lake or wetland can cover one acre of surface water and seriously damage aquatic habitats. Storage tank spills can contaminate drinking water supplies and take years for ecosystems to recover. All oil or chemical spills pose a threat to human health and the environment, require remediation, which may extend beyond property boundaries, and result in substantial cleanup costs. At low levels of contamination, fuel
contaminants in water cannot be detected by smell or taste, yet the seemingly pure water may be contaminated to the point of affecting human health.
To buy a spill Containment berm.
Contact us: