What News in Spill Containment?
New Flexible Spill Berms!
Introducing the Ready Ultra-Light Spill Berm™
30-40% Lighter than the Original Ready Berm.
Made in America!
Mil-Spec Berry Amendment Fabric.
Designed to provide Secondary Containment of Fuels in combat situations.
How Much Oil Did Hurricane Laura Spill? Answer Is Still Unknown, But Sheen Is Widespread
https://weather.com/photos/news/2020-09-14-hurricane-laura-oil-spills
Mauritius Sees Largest Rally in 40 Years Over Oil Spills
https://www.africanews.com/2020/09/13/mauritius-sees-largest-rally-in-40-years-over-oil-spills/
Spill containment Berms, Berm Liners, Spill Pallets, and More.
They are featuring the latest in spill containment, spill prevention, and secondary containment products.
What is New from Ready Containment, LLC?
https://www.linkedin.com/company/ready-containment-llc-/
https://www.linkedin.com/showcase/spill_berms/
Check out the following hashtag on Linkedin:
https://www.linkedin.com/feed/hashtag/environment/
https://www.linkedin.com/feed/hashtag/sustainability/
https://www.linkedin.com/feed/hashtag/oilandgasindustry/
https://www.linkedin.com/feed/hashtag/mining/
Ready Containment, LLC. Contact us if you have a new secondary spill containment item and would like to post it.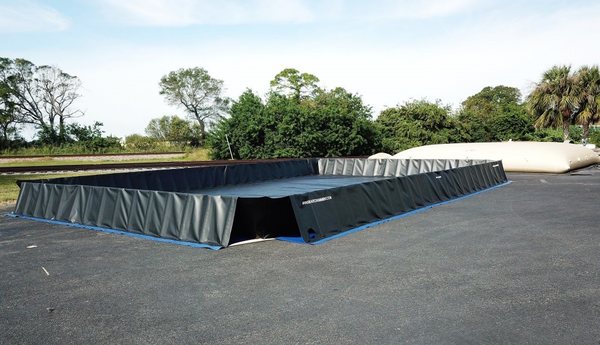 Got News? Let Us Know About it.
Ready Berms are now available in 36″ wall heights for extra spill containment.
More containment in less space.
Let us know about it. So we can tell the world. This site is sponsored by Ready Containment, LLC., an ISO 9001:2015 Certified manufacturer of spill containment products, including Spill Containment Berm, Secondary Containment Pit Liners, and hazardous waste liners, and more. Our Featured spill containment products are our Spill Berms featuring our Ready Berm that come fully assembled and are delivered Ready To Go.
Ready Containment offers many newsworthy innovations in the spill berm and secondary containment market.  We are always looking for new ideas in the containment industry. If you have a new product and are looking for a product development partner, call us at 941-739-9486.
Ready's new Space Saver Marine Fuel Bladders gives you more space on your deck without giving up the extra fuel!
New Custom Baffled  Bladders for Marine use.
Environmental News | Secondary Spill Containment
Please contact us to post your spill containment news at 941-739-9486